December 10th, 2011
I shall pass through this world but once. Any good thing therefore that I can do, or any kindness that I can show to any human being, let me do it now. Let me not defer it or neglect it, for I shall not pass this way again.
– Henry Drummond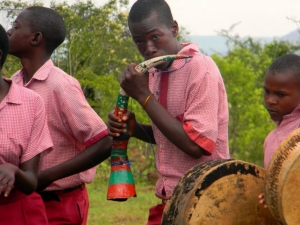 Friday, November 4, 2011 will always be a land mark day for Touching Lives Ministry and Touching Lives Kenya. By God's grace it will also be remembered as a day that ushered in a new hope for the people of Sanjweru, Kenya and surrounding communities.
The day started with the children from several of the schools in the area entertaining community officials, the TLM/TLK mission team, and the 500+ people gathered for the occassion. We were treated to native songs and dances accentuated by the beating of drums. And the children were both talented and entertaining!
Next, some of the women who are a part of the Mustard Seed Microfinance did a dance and presented gifts to Wendi to express their appreciation for how the microfinance ministry has touched and changed their lives. They soon had most of the mission team members dancing with them for joy!
Finally the government representatives arrived and the land dedication ceremony began with the Assistant Prime Minister being welcomed with a bouquet of flowers presented by a beautiful little girl and the the planting of a tree on the site of the future medical center. This was followed by the unveiling of the dedication stone. The stone will always proclaim that Sanjweru Medical Center is only "By God's grace and for His glory."
Now faith is being sure of what we hope for and certain of what we do not see.
Hebrews 11:1