"One thing I know: the only ones among you who will be really happy are those who will have sought and found how to serve."
— Albert Schweitzer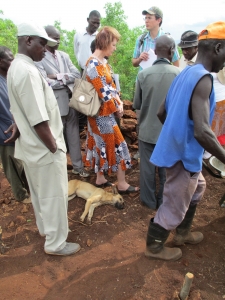 The end of January/beginning of February brought a lot of activity to God's Hill in Sanjweru, Kenya. A team of architects and engineers with Engineering Ministries International (eMI) visited the site to begin the process of drawing plans for Sanjweru Medical Center. It was a blessing to observe this team's commitment to excellence. There is no doubt that SMC will be a more excellent institution because of the touch of eMI on it! Here you can see the surveyors working on the land, and the architects and engineers are working right at the site on their first day there!
The team toured the site and, even though they worked hard late into the each night, yet every time they had a chance they enjoyed playing with the children!
The partnerships and friendships we have been privileged to form are both a blessing and a beautiful illustration of the Body of Christ in action! In coming posts we'll share some more of those partnerships and blessings. Please pray for Touching Lives and how God wants to use you in the incredible tapestry of love and service He is creating in Sanjweru, Kenya.