February 5th, 2011
I am prepared to go anywhere, provided it be forward. I determined never to stop until I had come to the end and achieved my (God's) purpose.
-David Livingstone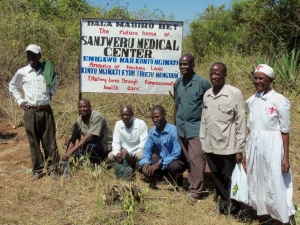 If a journey of a thousand miles begins with a single step then it must continue with many, many following steps. Yesterday, TLM/TLK took another step toward our November ground breaking and the beginning of the construction on Phase One of the Sanjweru Medical Center project. We received the results of the geo-physical survey! There are two more small steps to be taken and we will be ready to drill the well for the hospital – and just in time for the ground breaking! All in God's good and perfect timing!
We are so grateful to our extended TLM family for committing to travel this road with us. Here are a few "stepping stones" for you as we move toward the vision and calling God has put on our hearts:
Pray for God's will, God's timing and God's provision
Encourage others to pray by telling your family, friends, neighbors, co-workers, and church family about what God is doing
Stayed tuned for information about our fall benefits
If God's leads, visit the Donate page on our website to find out how you can donate funds for the well or the building project
By God's grace and with you beside us we will persevere to the end –
God's end!
…we also glory in tribulations, knowing that tribulation produces perseverance; and perseverance, character; and character, hope. Now hope does not disappoint, because the love of God has been poured out in our hearts by the Holy Spirit who was given to us.
Romans 5:3-5