February 2nd, 2015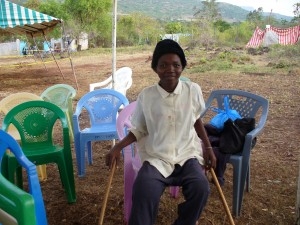 Brian Otieno Wasonga is a charming 17 year old boy that we first met at our medical camp in 2011. He is the son of Milko and Peter, who are peasant farmers. Brian has five siblings; an older sister, who was unable to complete secondary school due to their poverty, and 4 younger siblings.
At the tender age of 9 years old Brian fell playing soccer on his way home from school. Unfortunately his parents were unable to seek medical attention nor even had access to clean water to cleanse the wound and he developed a severe bone infection called osteomyelitis. Brian's right femur, the main weight bearing bone in his body, and his knee have been nearly destroyed by this infection. Sadly, this young man has been living with the pain from this infection for 8 years! Since 2011 Brian has needed two blood transfusions due to anemia, which was worsened by the infection, several rounds of treatment with antibiotics and three surgeries. His Kenyan medical team informed his parents and Touching Lives that they have exhausted the medical resources available in Kenya to save his leg, there is nothing more they can do.
We are grateful that a family, a hospital and a community have stepped forward to help us bring Brian to Myrtle Beach, SC for the surgery and care he needs to save his leg, and in the process, his life. Brian arrived in the U.S. on November 12th and, by God's grace, had his first surgery 8 days later! He is presently recuperating from the surgery and enjoying learning about the American culture while he waits for his next surgery in January. Click here to watch to news coverage of Brian's arrival in the United States.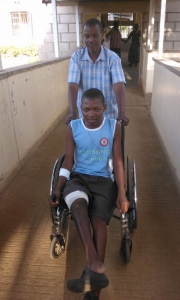 Brian has now had a second surgery and recooperating well. In January he started attending the local high school and is quickly learning English and making friends. It is expected that he will have a third surgery sometime in March.
If you would like to help to financially support Brian's recovery and future care, you can do that by visiting our Donate page and leaving a note on your donation that it is for Brian. We thank you for your continued prayer support for this exceptional young man!