March 20th, 2012
Heaven is under our feet as well as over our heads.
–Henry David Thoreau
God promised the Israelites the Land. He called it the Promised Land. Yet the Land was just the beginning, the starting point, for His promises to the Israelites. His ultimate purpose was that His chosen people would love the Lord their God with all their heart, all their soul, and all their mind. But He also longed to bless them, after all, this was a land flowing with milk and honey. So His promise to them was basically the same as the promise in Jeremiah 29:11 and Romans 8:28 – He desires the best for us and that He is glorified as we realize what that means for each of us.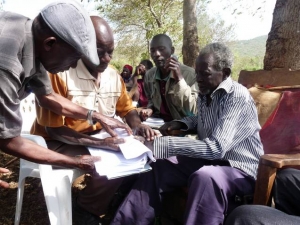 Although we did not fully understand the extent of God's plan, in 2007 God revealed His intention to bless the people of the Sanjweru/Magunga area in remote western Kenya on the shores of Lake Victoria…and His plan to allow Touching Lives Ministry and Touching Lives Kenya to be a part of that plan. On March 10, 2012 He gave us the Land. We call it God's Hill.
On that day, Mzee Ombouro fixed his thumb print (pictured above) and the Sanjweru School Board signed to donate God's Hill to Touching Lives Kenya to build Sanjweru Medical Center, by God's grace and for His glory.
We know that challenges lie ahead but we also know that what God starts, He completes. And so we invite you to join us on this extra-ordinary, divine journey through your prayer support, by going to serve the people, by sending others to go, and through your financial support. Stay tuned for updates on all that God is doing on "God's Hill". Even as God blesses us, may He be glorified!
And we know that all things work together for good to those who love
God, to those who are the called according to His purposes.
Romans 8:28
For I know the thoughts that I think toward you,
says the Lord, thoughts of peace and not of evil,
to give you a future and a hope.
Jeremiah 28:11
…being confident of this very thing, that He who has begun a good
work in you will complete it until the day of Jesus Christ
Philippians 1: 6