March 1st, 2011
He has Just Begun!
God has a thousand ways
Where I can see not one;
When all my means have reached their end
Then His have just begun.
–Esther Guyot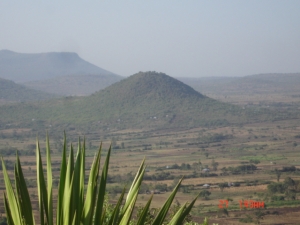 The February mission team has returned – and we bring Good News! Sometimes in life we realize that God has been working on our behalf in small ways, sometimes in big ways, and occasionally He reminds us that He has been working in both small and big ways all along. Such was the case during our time in the western Kenyan province of Nyanza over the past two weeks.
Shortly before our departure we received word that some kind, compassionate, and generous people from the village of Sanjwero donated 23 acres of land to Touching Lives Kenya for the purpose of building a medical center for the community! To the left of what we having lovingly named, "God's hill" you can see a "table". This is the future home of Sanjwero Medical Center – A Ministry of Touching Lives. The TLK land continues half way up the hill.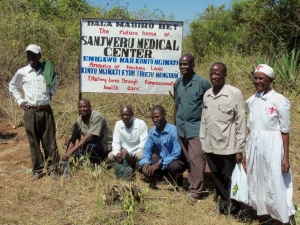 The committee members who have been appointed by the Sanjwero village have already become "ambassodors" to the surrounding community, gathering support and much needed muscle power to begin clearing the brush from the land in preparation for construction to begin. The boards and officers of TLM and TLK are grateful and indebted to this group of men and women for all they are doing.
One of our final privileges before departing Nyanza Province was to witness the placement of a sign announcing this as the site for the coming medical center. Around the sign are just a few of the dedicated committee persons who are sacrificing much for the betterment of their community.
We have much to share regarding what God is doing in and around Sanjwero and more updates will be coming soon. Until then we do have prayer requests to share:
That God will move hearts to supply the funds needed for ground breaking and the commencement of construction before our summer medical mission at the beginning of July
That the medical center's well can be drilled prior to the arrival of our summer mission team
That God will call, prepare, and equip the summer mission team
That God will provide for the safey of those who are working to prepare the land for the construction to begin
Above all else, that God will be glorified in and through this awesome work!
If you are feeling a "tug" on your heart to be a part of God is doing in this region and are would like to be a part of the summer mission team please go to the "Home" page of the TLM website to download an application. If you cannot go but feel called to support this work or send others, please visit the "Donate" page on the website. Whether going or sending we ask for and cherish your prayers on our behalf as we begin to step forward in this outrageously wonderful move of God.
God has just begun!