July 30th, 2015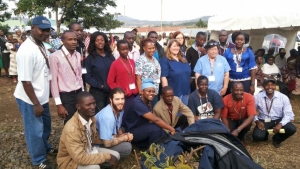 God blessed our July 2015 Medical Mission Team in so many ways, both large and small. As always, we were blessed to join the Kenyan team of medical professionals and volunteers with a heart to serve their countrymen. The blessing spread to the people of the Sanjweru, Kenya area as they received free medical exams, treatment, medications and spiritual counseling.
During the 3 day camp we saw 1,200 medical patients, 280 dental patients, provided spiritual counseling to 184 people, distributed over 100 donated "pillowcase dresses" and 41 Bible translated in the Luo language!
The team enjoyed renewing old and forming new friendships as we spent "free time" at the Green Forest Guest House together. God even blessed our time and the medical camp with beautiful weather!
If you would like to be a part of the 2016 team you can click here for more information. Whether you go or stay and pray, we thank you for being a part of this amazing ministry!