January 31st, 2011
"The measure of a life, after all, is not its duration, but its donation."
-Corrie Ten Boom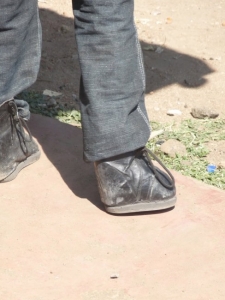 Last September we shared the story of "Michael," a young many who had lived twelve of his fourteen years walking with painfully disfigured feet due to severe burn he sustained as a toddler.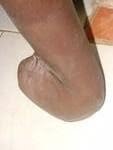 Due to the generosity of our supporters he was able to be transported to a hospital twelve hours from his home to have surgery to release the top of his right foot, which had become fused to the bottom of his leg. By God's grace he had no complications from the surgery. Finally, by the end of June his foot had completely healed and he received the orthopedic shoes that are helping him to walk with little to no pain! Much like a toddler who is learning to walk, "Michael" (whose actual name is Stephen), is learning to walk with his new shoes and without crutches. His life has truly been changed for his good and God's glory! Please continue to pray with us for Stephen as he literally walks in this gift that God has given him.
As we prepare for the November ground breaking on Sanjweru Medical Center. The board and officers of Touching Lives Ministry want to thank all of our supporters and volunteers for giving, in so many ways, to minister to Stephen and many others like him in the future. Soon we will be sharing with you some of the specific ways you can be a part of our free medical camp in November. Until then, we would encourage you to meditate on Christ's words to His disciples in Matthew 25: 31-40. Many lives are being changed because you care – even yours!