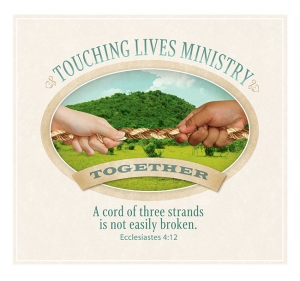 In partnership with Engineering Ministries International, Touching Lives Ministry unveiled the architectural plans for Sanjweru Medical Center at the First Annual Gala and Silent Auction on Sunday, October 6th, 2013.
With the completion of the water treatment system and water distribution system in February 2014 and in partnership with Water Missions International, Touching Lives began to provide clean water to the Sanjweru area for the first time in generations. This marks the completion of Phase One of the construction project.
Phase Two will include bringing electricity to the land followed by the construction of a modular building that will house an outpatient dispensary with a room for deliveries and Waiting Huts where mamas who live too far (3-5 miles) to travel once labor begins, will stay from about 37-38 weeks of pregnancy while waiting for labor to begin. Close by will be public toilets and showers.
The dispensary will later become the Labor and Delivery Unit directly behind the "centerpiece" building of Sanjweru Medical Center, the Outpatient Building, which will contain the outpatient clinics and some administrative offices.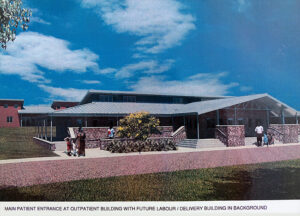 Below is a layout of the medical center with its various units.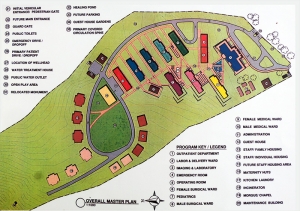 We praise God for all He doing to for the people of this community and beyond!