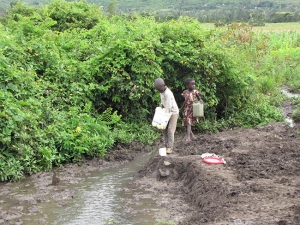 Before the construction on Sanjweru Medical Center could begin a reliable source of water was a necessity. While that is important, of even greater importance is the drought conditions that annually plagues Sanjweru, Kenya. There is a vicious cycle of drought leading to the drying of the area's wells or malfunctioning pumps. The community must then find their daily water from streams, this contaminated water is a source of many bacterial and viral diseases including typhoid.
The well for Sanjweru Medical Center serves as the clean water source for the hospital and provides clean water to the community. Touching Lives has partnered with Water Missions International to provide clean water, even during times of drought, to the community.
If God has put a burden on your heart for those who do not have access to clean water, you can donate toward the SMC water treatment system by contacting us at tlministry@verizon.net or by going to our Donate Page. Your generosity is a blessing to Touching Lives and the community of Sanjweru, Kenya. We've added some pictures of the, now completed, well-drilling and Water Treatment System construction. Take a look!
Then the righteous answered Him, saying, Lord, when saw we thee an hungred, and fed thee? or thirsty, and gave thee drink? When saw we thee a stranger, and took thee in? or naked, and clothed thee? When saw we thee sick, or in prison, and came unto thee? And the King shall answer and say unto them, Verily I say unto you, inasmuch as ye have done it unto one of the least of these my brethren, ye have done it unto me. Matthew 25: 37-40