About Us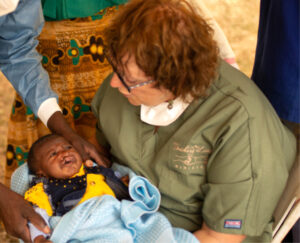 In 2009, as Kathi Evans, CEO of Touching Lives Ministry, Inc and Touching Lives Kenya, looked out over a community that was patiently waiting for hours to be seen at a free medical camp in Nepal, she "heard" God's Spirit "whispering" to her spirit. "Even with the best medicine this world has to offer every person here today will physically die." To some that reminder could possibly lead to discouragement and even despair. To Kathi, it was a call to use her God-given gift of medicine to introduce others to the One who offers the much greater gift of eternal life.
Since then God has been growing a small "army" who have also taken up the call to reach out to the world with two powerful weapons: medicine and God's word. A call to ministry, any ministry, is not an easy road but the Touching Lives family has learned and continues to learn that it is a rewarding and fulfilling journey. As Ion Morgan Cron states it in his book, Chasing Francis: A Pilgrim's Tale, we are a "people who felt called out on a spiritual journey because of an inner ache, yearning, or 'voice' we couldn't quiet."
We invite you to take some time to get to know us through the pages of this website and, as you do, to listen for the "whisper" of God's Spirit in your own.
Our History
As a child, Kathi Evans, felt God calling her into foreign missions. The twists and turns that prepared Kathi to walk in that calling took her through the nursing program at Widener University in Chester, Pa., meeting and marrying her best friend, Mark, and the birth of their first son, Jason.
According to God's perfect timing 2001 was the year God opened the door for Kathi to begin to follow her childhood calling. Since then she has participated in and assisted with the leadership on an average of two short-term missions per year. These trips have taken her to Trinidad, Kenya, Nepal, India, and Ground Zero in New York City following September 11, 2001.
Kathi realized another step in her missionary "training" in 2007 as she obediently followed God's leading to write a book about the loss of her second son, lovingly named Peanut, in the sixteenth week of her pregnancy. Not wanting to gain from the loss of their son as well as a desire to provide a way for Peanut's short life to make a difference, Mark and Kathi decided to commit the funds from Our Baby, Our Love, Our Loss to foreign missions.
On June 9, 2009 the next chapter of Kathi's calling was unfolded as the Evans received word that their petition for non-profit status had been granted. Through Touching Lives Ministry God has uniquely and mysteriously combined the Evans' love for God, their baby boy, suffering couples, and the poor around the world to, once again, show Himself faithful to His Word.
"For I know the thoughts that I think toward you, says the LORD, thoughts of peace and not of evil, to give you a future and a hope." Jeremiah 29:11
Read more about us and our Mission Statement