Construction Vision Overview
Preparation of the Land:
Touching Lives began to create infrastructure on "God's Hill" in 2012. Since then, a bore hole drilled, water treatment house erected, began a greenhouse project, poultry project and began planting an orchard – all to help provide food and water for our patients. We have also purchased and renovated 2 cargo containers to become the temporary Touching Lives Kenya Office, a storage unit and shaded meeting place for community meetings. Three phase electricity and the beginning of our site-wide solar electricity has also been put in place. During the implementation of this infrastructure, we applied for and received the Land Title Deed and approval of our construction plans.
Phase One:
…of Sanjweru Medical Center will include:
The Outpatient Building with dental, mother-child, optical and general clinics, a labor and delivery area, a procedure room for minor surgery and emergencies, laboratory, pharmacy and several beds for overnight patients
Morgue, incinerator, and lime pit – requested by the community
Chapel
Laundry and kitchen
Campus hub for solar electricity
Phase Two:
Labor and Delivery Unit
Maternity Ward
Well Newborn Nursery
Neonatal Intensive Care Ward
Guest House for visitors and short-term mission teams
Staff Housing
Phase Three:
Theater
X-ray and imaging
Men's Medical/Surgical Ward
Women's Medical/Surgical Ward
Pediatric Medical/Surgical Ward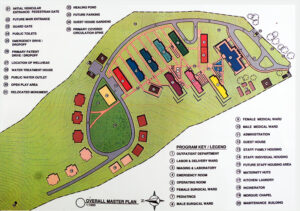 Above is a layout of the medical center with its various units.
Long Term Plan:
Will be the culmination of the Sanjweru Health System with small heath centers or dispensaries in villages 8 to 16 kilometers around the hospital will be staffed by Clinical Officers. These health centers will provide basic care for each community with a small labor and delivery room, thus making access to healthcare available to thousands who cannot walk 8 or more kms to Sanjweru for care. Should a critical patient come to a health center, or a mama begin to have trouble in delivery, an ambulance from Sanjweru Medical Center will be dispatched to the health center to transport the patient to SMC for more intensive care and/or surgery. The vision is to build approximately 5-6 health centers around the hospital which will, in essence, create a medical system.
This system will then become a reproducible model for other regions of Kenya and around the world. The Board of Directors and Officers of Touching Lives are committed to following this vision as God leads us forward.
We praise God for all He is doing for the people of this community and beyond!