Edward Ward, Board Member, Mortuary Services Advisor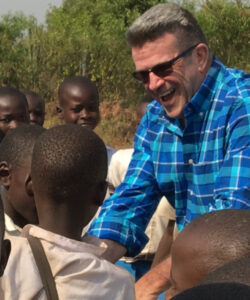 Ed was born and raised in the Twin Oaks section of Upper Chichester, southeastern Pennsylvania. He is the son of Joseph and Eileen Smith Ward and had 5 siblings. Ed's grandmother carried on the funeral home that she and his grandfather, Francis, started it in 1937. Growing up Ed felt a calling to walk in his grandmother's and father's footsteps, so he attended Penn State University and then the Pittsburgh Institute of Mortuary Science, graduating in March of 1980.
Even after many years of working under his grandmother and father, Ed had a yearning to serve the underprivileged around the world that would not go away. His challenge was that he did not know how he could use his knowledge and skills to fulfill that longing. It wasn't until 2017 that he was introduced to Touching Lives Ministry and found himself in Kenya in January of 2018, he also found his greater calling!
Ed shared a horse farm, the dream of his wife, Jennifer Wanner, in Southern Chester County for 22 years after living in Marcus Hook during the first 10 years of their marriage. Jennifer lost a valiant battle with cancer in February 2013, and he carries Jennifer's heart and memory with him on every visit to Kenya. Ed has one son, Christian, who is married to Lisa Cavicchio-Oakes, and has 5 grandchildren whom he adores.
Ed enjoys tap dancing, golfing, singing and Tai-Chi during his recreational time and is a faithful member of St. John Fisher Catholic Church in Boothwyn. One of the guiding scripture verses in Ed's life is found in Matthew 25: 40 —
"The King will reply, 'Truly I tell you, whatever you did for one of the least of these brothers and sister of mine, you did for me.'"