Testimonials
We would like to share testimonials with you from both Americans and Kenyans who have been a part of one of our missions.
A Teenager's Testimony
The following is a testimony written by high school junior, Stephen Saunders, in September after returning from a Touching Lives short term mission. God bless Stephen, God bless Brian.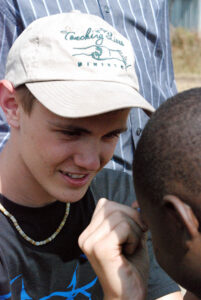 "In a world that headlines the war in Middle East and the conflict in Syria, or the recent shooting in Washington DC, you begin to wonder if there is any good left or if there is a way to make a difference. I was given that chance to be the difference this year, having the full intentions of going on a humanitarian mission to help an underdeveloped community on a separate continent, but remarkably I wound up with new perspectives.
This summer I had the experience of a life time. I went on a trip to another country. I went to Africa! I went to Africa on a mission trip to help build a hospital for the people who don't have the opportunities we do, and for the people who have to travel at least 12 miles a day on foot for the nearest hospital. This moment was a life changing event; it made me realize how lucky I really am, how important it is to be educated, and how important it is to live in the moment. The trip to Africa this summer showed me that the opportunities that I have in my life I should take and make the best out of them…"
If you would like to join Stephen and Touching Lives in making a difference in Brian's life, add Brian to your daily prayer list and visit our Donate page to contribute to Brian's on-going medical care. Thank you and God bless you!
Testimonial Videos